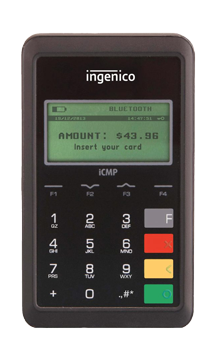 Mobile Pay Plus
Get a Free, No Obligation Quote
We offer you the straightforward advice and payment solutions that will keep pace with your growing business. Our professional payment advisors will take the time to understand your business and provide you with the right fit from reliable and secure POS terminals to an eCommerce site.
A fast, safe and mobile point of sale terminal
With the eSwipe Mobile Pay Plus app, you can offer fast, safe and flexible debit and credit card processing anywhere you go by using your iPhone, iPad or Android device.
Once you've downloaded the application and connected the chip-and-PIN enabled pin pad via Bluetooth® to your device, your customers can then tap or insert their credit or debit card and enter their PIN. You can accept payments wherever you have wireless coverage, with either your current cellular data plan or via Wi-Fi. Payments are processed in real time, with an e-receipt generated and sent to the customer via e-mail as soon as the transaction takes place.
You receive the fast funding that comes with instant authorization and the chargeback protection that comes from chip-and-pin.
Built-In Security
You can be assured your customer's card data is safe, because all data is encrypted instantly in the pin pad, using eSwipe industry-leading TransArmor® encryption and tokenization product. Whether chip-and-PIN, swiped or entered manually, data is secured before it leaves the pin pad, protecting you and your customers from the threat of card data compromise. Your smartphone is never exposed to unencrypted data.
What Makes Us Your Best Choice?
Benefits for Business
Accept credit and debit payments in real time from virtually anywhere
Reduce your processing fees – pay lower card-present rates
Less expensive than a traditional POS terminal
Protect your money – EMV® chip-and-PIN transactions are protected against chargebacks
E-receipt delivered to customer's e-mail at the time of the transaction
24/7 customer support
Turn your iPad or smartphone into a fast, safe and flexible point of sale terminal
You rely on your smartphone for everything from staying in touch through email and social media to depositing checks and transferring money. Now you can use your smartphone to accept credit card payments for your business too. If your business takes you across town or even across the country, eSwipe Mobile Pay is a simple, secure way to process payments.
Wherever you have wireless coverage with your current data plan or a Wi-Fi connection you can process payments in real time. Just download the Mobile Pay application and plug the card reader device into your smartphone. Then, just swipe your customer's card to the capture the sale. A receipt will be sent to your customer by email. It's that easy!
What Makes Us Your Best Choice?
Benefits for Business
Support for all major credit card types
SSL encryption technology
Real-time reporting capabilities
24/7 customer support
Take your customer's signature by having them sign right on the screen with their fingertip. No need for pen and paper!
Key-in transaction details like value and description
Swipe your customer's card through the card reader for payment authorization in seconds. You can also key-in card details using your mobile device's keyboard
When a sale is complete, you can send your customers an email receipt. You can also connect your mobile app to a receipt printer for an instant paper receipt